Restorative Dentistry
Many of the things we take for granted with our natural teeth, from smiling with confidence to eating the foods we love, can become easier again with restorative dentistry. At our state-of-the-art Hiram dental practice, we offer a variety of restorative dental services that will give your smile a second chance.
Composite fillings are one of the most common restorative dental treatments performed by our Hiram dentists. Though they're a relatively small, minimally invasive procedure, they can make a BIG difference in the health and appearance of your smile.
Composite fillings are made out of a mixture of glass and composite materials that blends in with the rest of your tooth, creating a more natural-looking restoration than traditional amalgam (silver) fillings. Composite fillings can be bonded directly to the surface of your tooth, which means they require less preparation and leave more healthy tooth structure beneath the filling.
Porcelain crowns improve more than just the appearance of your smile—they restore damaged and decayed teeth and protect them for years! Crowns are a functional, long-lasting restorative solution for teeth that are misshapen, broken, worn or severely decayed. Our Hiram dentistsuse crowns both as stand-alone restorations and as part of larger smile makeover cases with fixed dental bridges and dental implants.
In comparison with other restorative dentistry treatments, crowns are a relatively simple procedure. They usually require two appointments: the first to make a mold of your damaged tooth, and the second to place and polish your custom-made restoration. Your dentist will take extra care during this second appointment to ensure that your new crown perfectly matches your other healthy teeth and feels comfortable and natural in your mouth.
Porcelain crowns are generally very strong restorations that can protect teeth for years. In fact, if your dentist places a crown before your tooth fractures or becomes infected, it could save you from needing more invasive restorative dentistry treatments like an extraction, root canal or dental implants.
If you have a tooth with too much damage to be repaired with a filling but not enough to require a crown, your dentist at Hiram Center for Family Dentistry will likely suggest an inlay or onlay. Inlays are used in the center of a tooth—the deepest part—whereas onlays are specifically structured to cover the cusps (points) and edges of a tooth. Both are widely used restorative dentistry procedures that can save your tooth from extraction or fracture.
Unlike fillings, which are created and placed all at once, inlays and onlays are created in a dental lab. Your dentist then bonds the restoration to your tooth the same way he would a crown, shaping and polishing it for a perfect fit.
If you are one of the many people who are missing teeth and struggling with ill-fitting, uncomfortable dentures or a retainer with false teeth, dental implants will give your smile a second chance.
A dental implant is a small titanium post that serves as the replacement for the root portion of a missing natural tooth. Dental implants can be placed in both the upper and lower jaws. Due to the biocompatible properties of titanium, dental implants naturally fuse with bone and become a solid anchor for the restorations that your dentist will eventually place on top. Dental implants can be used to replace one tooth, multiple teeth or your entire smile.
Single Tooth Replacements. This procedure is relatively quick and simple, as one tooth is replaced by one single implant.
Multiple Tooth Replacements. In what is known as a "fixed bridge," implants are permanently placed in the jaw then connected to a series of crowns.
Full Arch Replacements. Some dentists refer to these type of implants as " full mouth restorations." A full arch replacement is a permanent, long-lasting, and functional alternative to removable dentures for people who are missing most or all of their teeth.
Implant-Supported Overdentures. Unlike conventional dentures that rest directly on the gums, implant-supported overdentures are anchored by full-size or mini dental implants for superior function and stability. They can be removed daily to ensure proper cleaning and maintenance.
We think you'll be pleasantly surprised by the outstanding quality and ease of today's dentures. Whether you need a full set, a partial or a reline, we take great care to ensure that your dentures are as comfortable and affordable as possible.
After your exam, we'll send your information to our lab so they can fabricate your custom dentures. Our lab uses high-quality materials and has an extremely accurate manufacturing process, which means they usually get a great fit on the first try.
If you decide to stabilize your dentures with dental implants, we'll even retrofit your current dentures to save you the hassle of buying a new pair!
If you have a damaged tooth that is infected or is likely to become infected, you may benefit from root canal therapy. Root canal therapy is a highly successful restorative treatment, and a tooth repaired with a root canal can last a lifetime. Especially when paired with a natural-looking crown or fixed bridge, no one will even notice a difference in your smile!
Although root canal therapy has a reputation for being painful, the toothaches associated with an infected root are probably causing you more pain than the treatment will. We also provide nitrous oxide (laughing gas) and localized sedation to keep you comfortable throughout your visit.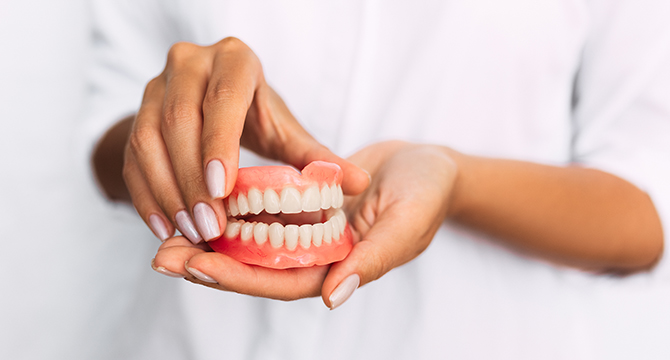 Dentures
At Hiram Center for Family Dentistry we take pride in helping you find the most comfort possible for prosthesis.
We offer a variety of a options to meet all your needs from economy dentures to help you function and live a full life to cosmetic dentures that will exceed all your esthetic needs. We take the effort and time to make sure that we create a perfect fit so that you can enjoy your life.
With options such as implants we can help secure your dentures by anchoring them on to your existing jaw ridges. This technique is very advanced and will help give you even more confidence to wear your dentures.
Aside from Dentures we have a full line of Partial Dentures that will help fill all the gaps that you may have in your mouth. With a variety of materials and customization options you are sure to find the perfect fit.
Please look at all the options available and see what fits you best.
Are your dentures causing problems?
If so, You're not alone…
Did you know approximately 20 million Americans wear dentures.
Did you know approximately 1/3 of Americans over the age of 65 have no teeth, and another 1/3 of Americans over the age of 65 have less than half their natural teeth.
At least half of all denture wearers have problems with their dentures.
Take our dental questionnaire below and see if your current denture gives you what you truly deserve and desire.
If you answered "yes" to any of these questions, you could benefit from a visit to our office
Are your existing dentures causing you problems?
Are your dentures more than 3 years old?
Is it difficult to eat because you can't chew your food?
Do your dentures pop out and have difficulty staying in place?
Do your dentures look fake rather than natural and lifelike?
Do you wish you had a better looking smile?
Would you like the opportunity to design your smile Do you want longer or shorter teeth? More square, round or pointed teeth?
Are your denture teeth worn or Flat?
Do you wish your teeth looked white, bright and attractive?
Do you want the confidence to speak without worrying about your dentures?
Has it been more than a year since your last oral health and cancer screening?
Do you feel like you can't live with them, but you can't live without them?
We look forward to getting to know you and your family!